Be "Hands free" with FreedUP Sling Bags
Our travel gear is strong and beautiful just like the women who make it.
OUTsideIN is a 501(c)3 social enterprise. We make and sell our beautiful fabric bags in a workshop in Troy, Tennessee. If you visit our store you will see strong women who have overcome huge challenges making our unique travel gear in small batches with careful attention to detail.
Testimonials
Every item I have purchased from them has been of great quality.

Michelle Bing
The awesome bag keeps all my clothes protected and organized

Tanya P. Sandy
You will for sure make a fashion statement as these items come in such fun patterns and colors

Annette Dobbins
OUTsideIN WORKS WHEN PEOPLE WHO CARE BUY OUR PRODUCTS
Your purchase ensures that we can continue to hire vulnerable women and bring them from the OUTSIDE back IN to an environment where they can be nurtured and encouraged to be strong in the face of life's challenges.
VISIT OUR WORKSHOP
If You're Ever in Troy...
Should you find yourself in Northwest Tennessee, we invite you to visit our workshop where you can purchase our cool travel gear and you will see real women with real problems making it (in more ways than one).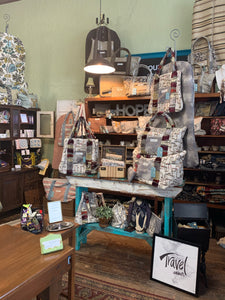 Location
OUR LUGGAGE STORE & WORKSHOP
107 West Westbrook
Troy, TN 38260
731-624-0015
Store Hours:
Monday-Friday 9-4:30
Saturday 9-2
Almost anytime by appointment
leellen@OUTsideINworks.com