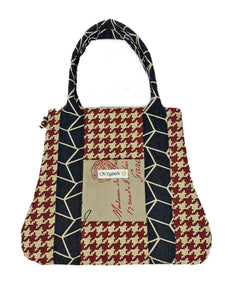 The OUTsideIN Commuter Bag has generous storage space measuring 16" long and is 19" wide at the widest part and 15" wide at the narrowest part of its pear shape.  There's a 6" x 7" pocket on the front of the bag and two 6" x 3-1/2" pockets on the back of the bag.  The heavy duty handles drop approximately 11" from the shoulder to the top of the bag providing plenty of space to slide over your arm.  It has a #3 YKK zipper and is fully lined.  There is a one-of-a kind collection of buttons decorating the zipper pull.  

This travel bag is great to carry a laptop or iPad or can simply be used as a handbag.  It fits comfortably on your shoulder and will easily stay positioned there.
This bag is made from a heavy bold herringbone design in a classy (and Arkansas - ish) shade of red.  The straps are a black graphic design and the pockets have a passport vibe  with script and stamps on a beige background.