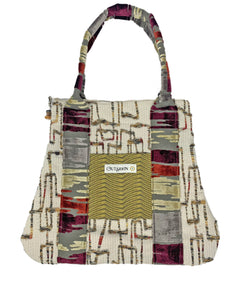 The OUTsideIN Commuter Bag has generous storage space measuring 16" long and is 19" wide at the widest part and 15" wide at the narrowest part of its pear shape.  With 20" heavy-duty straps, a 6" x 7" pocket on the front of the bag and two 6" x 3-1/2" pockets on the back. 

This bag is made from a design that features maze like stitching that is reminiscent of the streets in San Francisco in burgundy, gray, gold and rust on a beige background. The pocket is a gold and gray flame stitch and the straps are gray, beige and burgundy.  It's fully lined with a fun cotton print in similar colors and has a heavy duty beige zipper.

It's great to carry a laptop or iPad or can simply be used as a handbag.  It fits comfortably on your shoulder and will easily stay positioned there.
It coordinates with our HangUPs Garment Bag (1052G) and LoadUPs Tote Bag (1052T), and Wristlet (1052W) sold separately. 
OUTsideIN luggage makes your travels a pleasure, and also makes great gifts!